Vienna – Resilience and Taxi Tracks
Vienna the city at the Donau is rediscovering itself. After decades directly at the iron curtan the city has begun to reestablish and revitalise its former vital connections deep into Eastern Europe.
Between 1945 and the end of the Cold War in 1989 Vienna was effectively cut of its pulsing backcountry in the East. It was the Capital at the Eastern border of Europe surviving on one way connections shrinking from a population of over 2 million in 1910 to about 1.5 million in the 80s and 90s. It has grown since again together with this slow recovery to about 1.7 million.
I am currently in Vienna with a group of Students discovering the city and the intertwined urbanisation and planning processes, with a special focus on the Guertel in Vienna. This incredible resilience, to use an at the moment definitely overused word, of the urban structure to survive and at the same time develop quality during such a long time span of usage and input starvation is incredibly fascinating. It can be a great example of how durable and versatile urban morphology can be, actually has to be and visualises at exempla the meaning of cross generation investment on the level of society.
However it is also clear that this is not achieved only through the form or morphology good architecture or any other single discipline, but is a success proving the resilience of the city as a whole.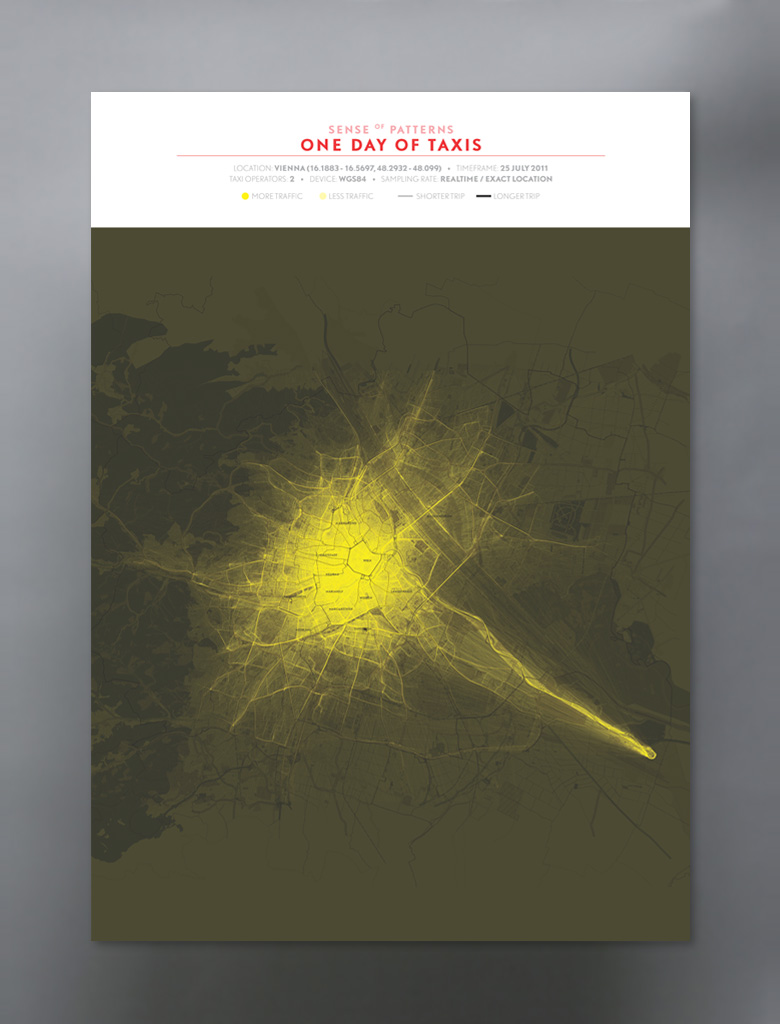 Image taken from Sense of Pattern / One day of taxi movement in the Vienna region. The active spotin the bottom South-East corner is the airport.
Interesting insight in this respect of course provide the visualisation of flows and movement. How is the morphology, the urban structure being navigated, used and interpreted for everyday busynesses? How easy is it for the wider public to access and interact with the city? Those are indicators showing the direct interadaptebility and everyday flexibility of the city in exchange with the citizens.
Taxi data has allowed to visualise these commuting movement pattern to be visualised on the scale of the city, providing a glimps of the hustle and bustle of Vienna over 24 hours. The project Sense of Pattern is continously developed by Mahir M. Yavuz, initially at the Austrian Institute of Technology and is rendered and visualised using processing and some python. The dat was provided by AIT.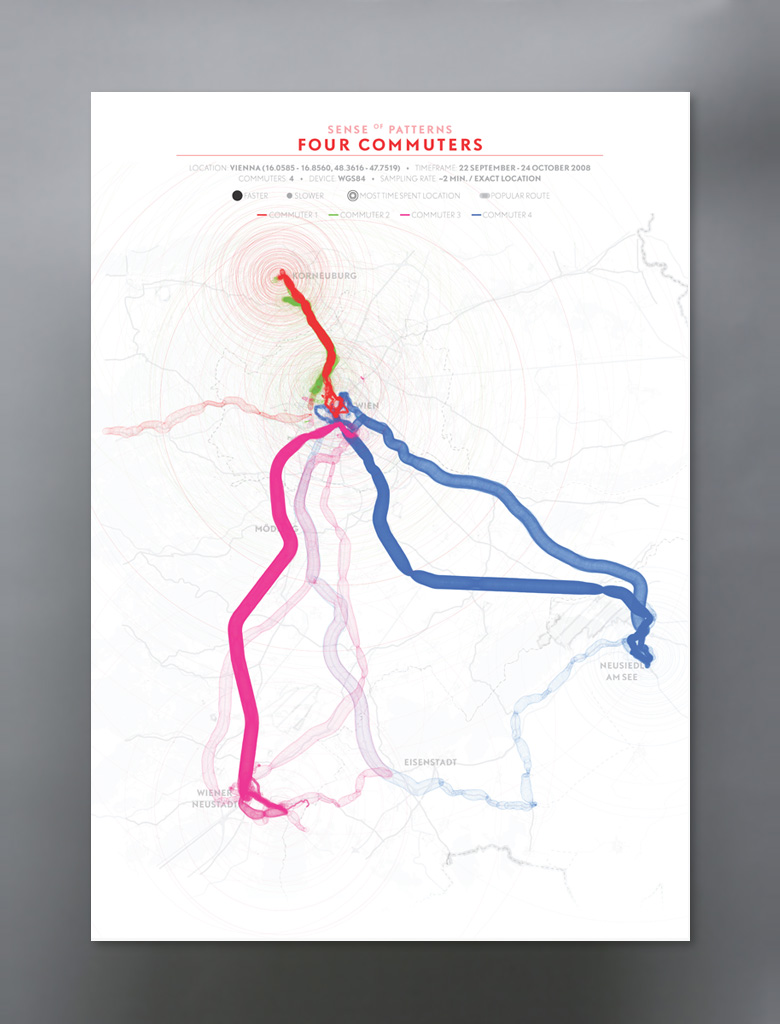 Image taken from Sense of Pattern / Four different types of commuters out of the data heap. This data was collected over the period of five weeks focusing on just four individuals.
In a series of approaches Yavuz works different aspects in to the focus of the visualisation. This being the sheer volume and the busyness in one, but being the typology and the character of a few in others. This is not providing a final picture but it is painting the characteristics while managing to play the scales and dimensions freely.