Book – Urban Regeneration in the UK
Urban regeneration in the UK appears to be mainly driven by speculation developer dominated investment projects thought and planned isolated as unique pieced dropped in a pool of likeminded, but distant relatives. As it looks cities, especially inner cities are suffering from identity loss with globalisation of characters and increasingly fragmented spatial configurations.
This is of course not a objective but a very subjective view on what is happening and how these changes feel. To be fair earlier changes in the seventies and eighties were worse. In this perspective a lot has changed and the nineties and the beginning of the 21th century projects have become a lot more sensible to a little bit wider context, maybe up to the pavement, and pretend more of a respect for environment and society.

Image taken from Wikimedia / A view of the Public in West Bromwich. "The Building is lovely to photograph, though looks somewhat less impressive when actually standing in front of it. A financial disaster, the scheme has yet to prove its value in attracting investment to this run-down part of the West Midlands.
Phil Jones and James Evans have published in 2008 with Sage a reader on this topic, 'Urban Regeneration in the UK: Theory and Practice'. It a classical text book with all the features 'Overview' at the beginning of a chapter, 'Key Points' at the ed of each chapter, a 'Further Reading' section and very helpful a chapter by chapter bibliography. This is not to to say it is dumb or boring on the contrary it is very helpful and allows for quicker orientation, skipping and finding of specific information.
Finding thing is really what you what with this type of book. It is not about discovering and becoming immersed in new thought, its clearly to get the facts on the tabe. An this it does along the topics of 'Policy Framework', 'Governance', 'the Competitive City', 'Sustainability' and 'Design and Cultural Regeneration'. Within this framework the book makes use of studies to present the cases and points. It is great to have such a practical focus.

Image taken from geograph / A view of the Drake Circus shopping centre in Plymouth finished in 2007. It replaced a completely run down previous shopping mall. However, in stead of solving the identified problems of its precessor it presents a whole new set of complication to the city and the public. This includes its expression on the outside, connections for access, dead spaces and frontages as well as the very problematic roundabout at the north end of the development.
However it is important to point out that this is not a practical 'how to do urban regeneration guide'. This is probably to be found in the CABE reading list or somewhere around there. This book is set in an academic context focusing on state-of-the-art research. In this sense the publication is providing the theoretical background and the discussion to the topic.
It an important topic and compared to many of Europe's other large cities the quality of building in urban centres is really poor, actually dramatic. This publications provides some insight on the mechanics and the policies behind the processes leading to such a state. However it does not explain the spectacular failings. Project such as 'The Public, West Bromwich' or the 'Drake Circus' shopping centre and regeneration in Plymouth are on a two examples (see images above).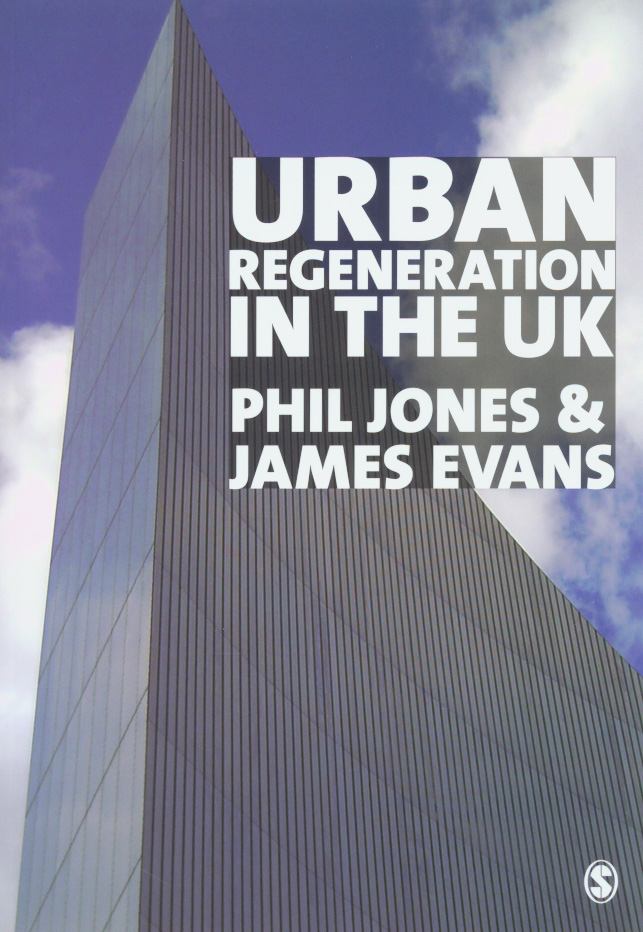 Image taken from surreylibraries / 'Urban Regeneration' book cover.
Jones, P. & Evans, J., 2008. Urban Regeneration in the UK: Theory and Practice, London: Sage Publications Ltd.