Sustainability and the Social Context of Ecological Urbanism
Ecology is one of the most popular words nowadays. We all throw terms in frequently like sustainable, environment friendly, renewable, efficiency, green, climate change. It is now important for Companies, governments, politicians, individuals; to turn green. Some really respect the cause and care about themselves and the planet. While others take advantage of the situation; "green" is now a profitable brand. For good or for bad ecology is know trendy.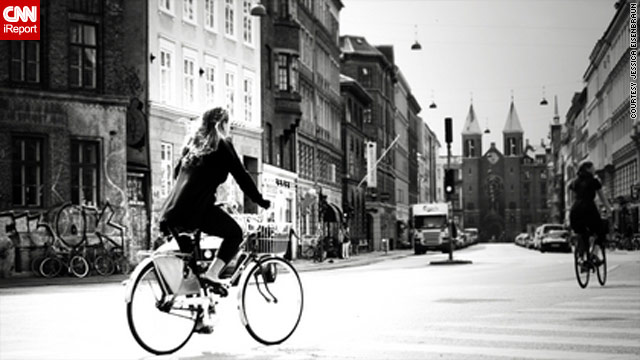 Image taken from CNN / In Copenhagen, Denmark, which has a reputation for accommodating cyclists, Jessica Eisenbraun gets her exercise riding around the city on her steel bike, which is older than she is but easy to maintain. Biking is the fastest way around the city, she says, when you consider how long it would take to park a car or take a bus.
"GREED Vs GREEN" Our contemporary societies are evolving from "greedy to greeny". Bill Maher, an american comedian and critic said in his show; "greed isn't good! In fact, is the common threat that runs through all of the problems that this country faces, from financial meltdown, to healthcare, to climate change. Americans will do anything to each other for money…" Twenty years ago greed and consumption were the key factors in any society. Things seem to be changing slowly. Unfortunately we needed get scared the hell out to evolve! We all now fear; Climate change, terrorism and the economy. As a result society is getting a conscious.
Individual consciousness seems to be the answer for this mess. Consciousness about our ways of life by consuming less and taking care of our selves and the environment. Italian Architect Andrea Branzi in his "Weak Metropolis Lecture" at the ecolological urbanism conference in Harvard talked about our attempt to change cities with major architecture projects, and how we must instead focus on smaller scale projects that will be able to penetrate households and cultures. It is in the conscious of the individual that ecological urbanism finds its roots.
Sustainability is the capacity to endure independently. The term is often used in architecture and urbanism for projects that respect or use a minimum of natural resources, the same term can be applied on individuals. The sustainability of the individual must be approached on how the individual takes advantage of the environment with the minimum impact over it. Environment relating to the geographical location, social and cultural surroundings of the habitant. This means that Andrea Branzi arguments are very strong. Even though a large amount of resources could be used in the construction process I do believe that well thought macro projects can bring benefits to a city and small projects like roof productive gardens (not only grass!) in each house hold can definitely create a huge difference on the sustainability of a city. Small viral green projects carried out at a house hold scale or at an individual scale will change the dynamic of the city. It will bring better quality of life to the habitants and it will lower the resources that the city requires.
Image taken from civileats.com / Roof of Abundance, a repot from the frontline of roofgardening in New York by Paula Crossfield. Details can be found in the 'Roof Garden Rookies' Category.
An informed individual is a conscious one. Nowadays we can find several web pages that will inform and measure the carbon footprint of individuals or small businesses. For example myfootprint.org, or one that I recently discover and that I really enjoyed is www.changinghabbits.org The 'Changing Habbits' project was initiated, designed and developed by Prof. David Walker and Prof. Rob Holdway of Giraffe Innovation. By responding to some easy questions this website will calculate your carbon footprint and will illustrate it in a fun way, at the end of the exercise you will have a perspective of your house hold habits and some simple tips on becoming greener and on improving your quality of life. The message is simple, wrong habits will make you a fat, ugly and unhappy person! So from a greedy materialistic frightened society we must change our ways into a conscious society. We all are ecological urbanists.
Image taken from changinghabbits.org / cover illustration.
This guest post by Luis Suarez forms part of the discussion on Ecological Urbanism as an urbanTick series .
—
Luis Suarez was born, in Bogotá, Colombia and graduated from The University of Florida in design, construction and planning in 2005. He received a master in science of urban design from The Bartlett School of Architecture, University College London. He is currently pursuing a Masters in Bioclimatic Architecture from The Isthmus School of Architecture for Latin America and the Caribbean. He is designing and building multiple projects in South and Central America with his established firm, Estudio ArQ.